Tile Roof Pressure Cleaning in Fort Myers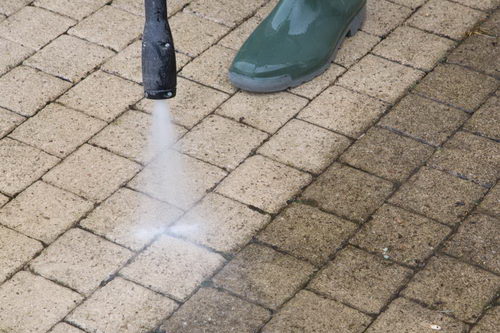 A tile roof can add to the curb appeal of a home or business property. They are a beautiful addition to any Fort Myers home. Just as homeowners need to have exterior painting done occasionally, a tile roof needs regular maintenance as well. Considering the torrential rain and high winds that Southwest Florida experiences during a hurricane system, mold and mildew find that a tile roof can be the perfect place for growth. Mold and mildew on a tile roof is not only unsightly but unhealthy for the residents too. Without professional pressure cleaning, the mold can take hold, find tiny cracks or gaps in the tile roof and overtake the home or business property. Expo Painting provide high quality pressure cleaning for Fort Myers properties with a tile roof.
Naples Pressure Cleaning for Tile Roofs
Replacing a roof in Naples can cost thousands of dollars but when it comes to having tile roofs installed, the expense can be doubled or tripled. Tile roofs are a major investment for real estate owners however; they can increase the value of the property when it is sold. Proper maintenance is necessary to protect that expensive investment. Pressure cleaning for tile roofs should be performed in Naples every year. Professional pressure cleaning will remove any mold, mildew, dirt and debris from the tile roof system. This can prevent further growth and deterioration. Expo Painting is the premiere painting services company offering pressure cleaning services for tile roofs in Naples.
Specialists for Tile Roof Pressure Cleaning in Marco Island and Bonita Springs
Many homes and commercial properties in Marco Island and Bonita Springs have tile roofs as opposed to shingled ones. They truly have a much better look than any other roofing materials and can last more than fifty years, with proper maintenance such as yearly pressure cleaning. Although a lot of people own pressure washing equipment, pressure cleaning tile roofs should be left to the professionals. Tile roofs can withstand severe weather however; the quickly crack and break when walked upon. A professional pressure cleaning company in Bonita Springs or Marco Island will know exactly how to provide pressure washing services without damaging the tile roof. Expo Painting are specialists in pressure cleaning expensive tile roofs.
The Right Tile Roof Pressure Cleaning Company
Expo Painting provides property owners in Naples, Marco Island, Bonita Springs and Fort Myers with a host of services including tile roof pressure cleaning, interior painting, exterior painting and renovations. With expert knowledge in these areas, Expo Painting can handle any project, large or small. Professional and reliable, the experienced contractors will have your tile roof looking like new again. Call 239-300-4126 for any painting services or pressure cleaning needs you may have.