The people in Fort Myers want to go to clean and neat auto repair shops. That might sound funny because the garage is always greasy, but the waiting area and outside should be appealing.
Commercial Painting for the Auto Repair Shops in Fort Myers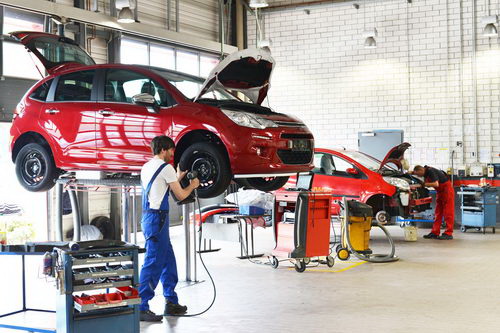 There are dozens and dozens of auto repair shops all over the city of Fort Myers. This does make it easy for people to get their vehicles repaired without traveling too far from their homes however; it can be difficult for people to choose which shop to go to. This is especially true if there are several in the same area. Fresh exterior painting with an accent of eye catching color can draw customers into the shop. Painting contractors who can provide professional exterior painting services to make the building look good to passersby can improve the Fort Myers shop's car count. Those that can also provide top notch interior painting services for the customer waiting area and front office can help keep them coming back. Expo Painting provides high quality commercial painting services for auto repair shops in Fort Myers.
Fort Myers Commercial Painting Contractors for Auto Dealerships
It is of the utmost importance that Fort Myers auto dealerships look inviting for potential car buyers. It doesn't matter whether the dealership offers new, used or both new and used cars, it must look clean and well-maintained. Let's face it! Nobody's going to buy a car from a Ft. Myers dealership that looks shabby. A shabby looking dealer just isn't going to draw the people who can actually afford to purchase cars. A commercial painting contractor for exterior painting services and interior painting services can make the dealership look inviting. At Expo Painting, the professional painting contractors can take your Ft. Myers dealership from drab to fab!
Commercial Painting for Body Shops in Fort Myers
There are quite a few body shops in Fort Myers, so it is essential that the shop owners make their businesses look as good as possible. In all honesty, people go to auto body shops in Fort Myers to make their cars look new again. If the shop doesn't look good, many people will not consider the company to provide the services they need. Commercial painting contractors can help. They can provide exterior painting services to make the outside of your shop look better than the others in Fort Myers, as well as handle the interior painting services to make your customers feel comfortable in the main office. Expo Painting can make your Fort Myers body shop look as spiffy as the cars your fix.
Reliable Commercial Painting Contractors
Expo Painting understands that commercial painting contractors need to work within the company's guidelines, as to the hours exterior painting services and interior painting services can be performed. Call 239-300-4126 and let Expo Painting help you draw new customers to your business in Naples, Ft. Myers or Bonita Springs.