Expo Painting is licensed and insured to perform exterior painting services throughout Lee County.
HOA Exterior Painting in Estero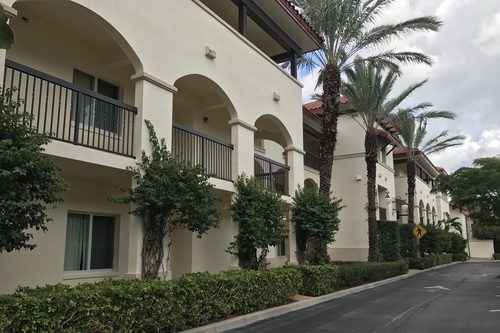 There are loads of people living in Southwest Florida, who opt to reside in communities under the auspices of homeowners' associations. There are plenty of pros and cons, but they can only be accurately weighed by the person planning to join the community. One of the most important positives of HOAs is that the homeowners do not need to worry about mowing the grass, trimming and edging. They don't have to pick up down palm fronds, branches and like. A lot of people just don't have the time or inclination to get outside in the heat and take care of all the yardwork and landscaping. On the downside, the homeowners must follow the HOA rules and regulations when it comes to painting their homes. There are specific colors and schemes that one must select from, and most communities only offer two or three options. This makes every home rather uniform and lacking personality. Besides regulating colors, they also regulate who can do the exterior painting within the community. Many property owners' associations will not permit the homeowner to paint their own homes, which comes as a surprise to those who do not fully read the rules. Therefore, a professional painting contractor must be hired for the project.
Apartment Complex Painting Services in Estero
Although there is always a high demand for apartment rentals in the area, it's essential that the complex be maintained in tiptop condition. By having a well-maintained property, it will cut down on the problem of tenant turnover, as people will want to stay on the clean property. Nobody wants to live in a property that has faded and peeling paint that looks dirty and dingy. They want the exterior and common areas to be kept as nice as they keep the inside of their apartments. Expo Painting offers exterior painting for HOAs and apartment complexes.
Estero Property Management Exterior Painting Contractor
In HOA communities, the homeowner is responsible for hiring a painting contractor for his or her home. The actual homeowners' association is responsible for all care and maintenance of the common areas within the community. They are held to the same rules and regulations everyone must follow, including using only licensed contractors. Expo Painting provides quality exterior painting services for property management common areas.
Homeowners' Association Exterior Painting Professionals in Estero
Expo Painting is insured and licensed to provide services in all of Lee County. They offer waterproofing work, pressure washing maintenance, interior and exterior services in Estero, Fort Myers, and Bonita Springs. Call 239-300-4126 to request an estimate for HOA painting services.